Bij Vrijopnaam ben je meer dan alleen klant! Jij wekt namelijk zelf stroom op met één of meerdere Panelenopnaam. Een Paneelopnaam is uitgegeven door de Coöperatie Vrijopnaam, waarvan je als eigenaar automatisch lid bent. Onderdeel van de coöperatie is de ledenraad. Tussen 18 februari en 3 maart was het mogelijk om te stemmen op de verschillende verkiesbare kandidaten. Inmiddels zijn de stemmen geteld heten we twee van de kandidaten welkom in de ledenraad.

Verkiezingsuitslag
Een nieuw ledenraadlid wordt gekozen onder en door de leden van de coöperatie (jullie als zelf stroom opwekkende klant van Vrijopnaam). Leden van de coöperatie konden zich tot 12 februari 2020 verkiesbaar stellen voor de ledenraad. Tussen 18 februari en 3 maart was het mogelijk om via deze website je stem uit te brengen op je favoriete kandidaat. De stembus is inmiddels gesloten en de stemmen zijn geteld. Graag presenteren we jullie onderstaand de twee nieuwe leden van de ledenraad.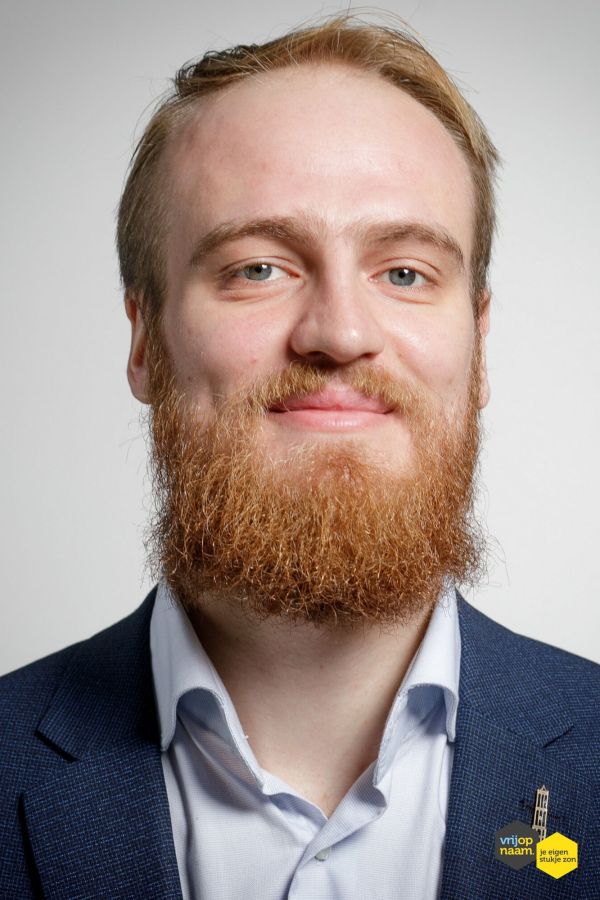 Naam: Roelant Knauff
Leeftijd: 27
Woonplaats: Utrecht
Lees hier de motivatie van Roelant. Naam: Gert-Jan de Moor
Leeftijd: 46
Woonplaats: Breda
Lees hier de motivatie van Gert-Jan.
Coöperatie Vrijopnaam U.A
Het doel van de coöperatie is het realiseren vannieuwe duurzame energieprojecten. Met jouw investering in een Paneelopnaam worden bijvoorbeeld op dit moment weer nieuwe zonneparken gerealiseerd in Etten-Leur, maar ook in Waalre en Stadskanaal. Zo neemt de productie van duurzame energie toe en versnel jij de transitie naar een duurzame energievoorziening in Nederland.
Heb je naar aanleiding van deze pagina vragen of opmerking? Je kunt contact met ons opnemen per e-mail (info@vrijopnaam.nl) of telefonisch via 085-3032652.
Like all other Dutch energy suppliers, Vrijopnaam obtained a permit for its activities, issued by the Dutch authority for consumers and markets (ACM). The ACM examines if an energy supplier runs its business responsibly, with fair pricing policies and reasonable conditions. The ACM operates as market regulator as well. In that role, the ACM assesses daily practices of energy suppliers, for example related to the information provision and the customer data storage methods.
Panelenopnaam are issued by the cooperative "Vrijopnaam U.A.". Every owner of a Paneelopnaam automatically becomes a member of this cooperative. The goal of the cooperative is to accelerate the energy transition by realizing additional renewable energy projects. Profits of existing renewable energy projects can only be used for funding new, similar green energy initiatives. So, as an owner of Panelenopnaam you are much more than just a Vrijopnaam customer.
All solar park assets are operated by separate cooperatives, without juridical ties to the utility Vrijopnaam. Vrijopnaam only supplies power and natural gas to end-consumers. Every Paneelopnaam-owner automatically becomes a member of the cooperative linked to the concerning solar park(s). As a member, one has the right to co-decide upon the cooperative's policy. In case Vrijopnaam goes bankrupt, the cooperative simply continues its operations. The cooperative will then decide how owners of Panelenopnaam receive their return on investment.
Chatten of bellen naar 085-30 32 652 kan op werkdagen tussen 9.00 en 17.00 uur. Mailen kan altijd!